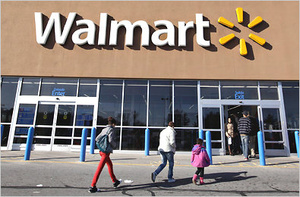 Giant retailer Walmart has slashed prices on the iPhone, bringing the smartphone down to as low as $29 with a two-year contract.
If willing to take a contract, a 16GB iPhone 5s will go for $99, while the plastic 16GB 5c will go for the aforementioned $29.
There is one caveat in that you must go to a Walmart store to take advantage, as it cannot be used online.
Of course, the price cut is ahead of the upcoming iPhone 6 launch on September 19th, which should help the retailer clear out inventory.
The iPhone 6 is expected to have a larger 4.7-inch display, higher
resolution
and a rounder design.
Source:
MyNews13