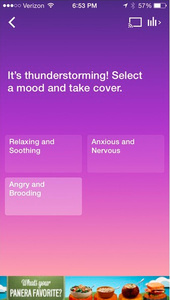 A couple of weeks after it was reported that Google had offered $15 million for curated playlist
streaming
music service Songza, the deal is now official.
Reads Songza's email to customers (myself included):
"Great news: today Songza is officially joining Google. We can't think of a more inspiring company to be part of in our quest to provide the perfect soundtrack for everything you do. Read more about it on Songza Daily.

You can absolutely keep using Songza as usual (we aren't planning any immediate changes -- other than making Songza faster, smarter, and even more fun to use)."
The six-year old startup has 5.5 million active users, and an acquisition will certainly help Google's playlist features for Google Play Music All-Access. Those features have been lacking since the service's full launch last year. Terms for the new deal were not disclosed.
Songza is popular due to its large offering of curated playlists. Besides time of day, mood and weather, the service can also build work out mixes, mixes for being at work in an office, music for listening in the shower, and everything in between.
The industry for streaming music is quickly consolidating, with the biggest move coming via
Apple
and their $3 billion purchase of Beats Electronics last month.