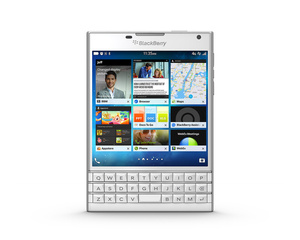 BlackBerry's strange new square-shaped Passport smartphone will go on sale on Wednesday at $599 unlocked, once again guaranteeing that they will sell no units.
The device has a full physical keyboard and a 4.5-inch square touchscreen at 1440x1440 resolution. Under the hood is a quad-core Snapdragon MSM8974 processor and 3GB RAM with Adreno 330 OpenGL. A 3450mAh battery will allegedly provide better battery life than high-end iPhones and Android devices.
Little else is known about the device, or at least confirmed, but we should know more on Wednesday.
BlackBerry CEO John Chen seems happy about the phone and pricing, claiming that they could sell it for $700 to be in line with other devices of its caliber,
"but I figure that to try to get the market interested, we're going to start a little lower than that."
Besides the keyboard, Chen says the strange screen will benefit users who need to read more or be more productive on their phones. "You really are seeing a more entire picture than seeing a sliver of a screen," he added.
The device may have some enterprise or international fans, but nobody in the U.S. is going to pay $599 for the Passport when the iPhone 6 and Samsung Galaxy S5 cost $650 unlocked. Sorry.
Source:
WSJ