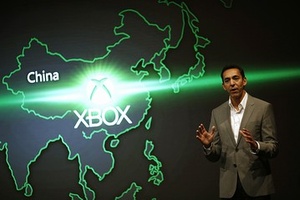 After delaying its release in the nation, Microsoft has revealed the updated launch date for the Xbox One console in China.
Set originally to be released yesterday, the console will now go on sale on Monday, September 29th.
"After receiving government approval for the first wave of games, we will launch with the first 10 games now and continue our work to bring more blockbuster games and a broad offering of entertainment and app experiences to the platform in the weeks and months to come,"
said Enwei Xie, general manager of Xbox China.
When it launches, it will be the first console to be sold in China since consoles were banned in the early 2000s. Of the approved games, there are few blockbusters but Microsoft says over 70 titles are in the pipeline waiting for approval from the Chinese regulators, including Titanfall and Destiny.
Microsoft has priced the console at 4,299 yuan ($700), including Kinect, a hefty premium to its price in the U.S. and Western Europe.
Source:
Digits