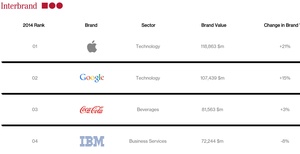 Topped by Apple and Google, the tech world once again dominated Interbrand's 'Best Global Brands' rankings.
Interbrand calculates the ratings by combining the company's "financial performance of the branded product and service," their "role in influencing customer choice" and "the strength the brand has to command a premium price or secure earnings for the company."
Apple retained the top spot with a value of $118.9 billion, followed closely by Google at $107.43 billion. Following a 21 and 15 percent rise, respectively, the list has two $100 billion companies for the first time in history.
"Apple and Google's meteoric rise to more than USD $100 billion is truly a testament to the power of brand building,"
said Jez Frampton, Interbrand's Global Chief Executive Officer.
"These leading brands have reached new pinnacles--in terms of both their growth and in the history of Best Global Brands--by creating experiences that are seamless, contextually relevant, and increasingly based around an overarching ecosystem of integrated products and services, both physical and digital."
IBM took fourth place at $72.24 billion, followed by Microsoft at $61.15 billion. Other tech giants near the top of the list were Samsung at #7, Intel at #12, Cisco at #14 and Amazon at #15.
Source:
Interbrand
Sortable List