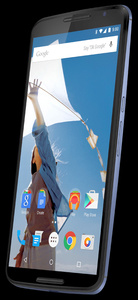 Evan Blass, of the now retired @Evleaks Twitter account, has posted a supposed image of the upcoming Google Nexus 6.
The Motorola built Android reference device is expected to have a giant 5.92-inch QHD display and the image shows off much of what we have heard in the past few days about the device.
In the image, we see a slate metal band and the volume rocker and power buttons have been moved to midway down the device to make sure that people can actually use one hand to turn off their screen. The device is also running Android L, which is expected to launch the same day as the new phone.
Although there have been zero official confirmations for a release date, the Nexus 6 smartphone and Nexus 9 tablet are expected to launch as soon as next Tuesday.
What a depressing few days. I remember 1 thing that used to make me feel better, tho. No mark in deference to Nexus. pic.twitter.com/76zhSfu8rJ

-- Evan Blass (@evleaks) October 14, 2014