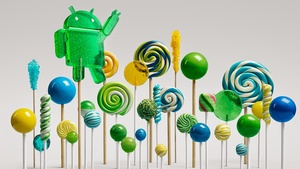 Android L is finally here, officially coined as Android 5.0 Lollipop.
The updated operating system has been long-awaited, ever since Google offered an in-depth preview of the new "Material Design" features at its I/O event over the summer. As always, Nexus owners will get the update first, and this includes the new Nexus 6 and 9, as well as the older Nexus 4, 5, 7, 10 and Google Play Edition devices.
Material Design is Google's way of unifying the operating system across phones, tablets, TV, and smartwatches and visually the interface has a cleaner more bold design, better colors, better animations, better multitasking abilities and better voice and gesture support.
Although it was relatively easy to do so before, Google says Lollipop will allow songs, photos, apps and recent searches to be seamlessly and effortlessly synced between all of your Android devices. The lock screen can be customized "so only certain people and notifications get through. When it's important, respond directly from your lockscreen." This is a great feature especially if you are working, and those emails from retailers can wait until later.
The dialer has been revamped, a much needed fix from Android 4.4 where it just frankly did not work well. Google says a new battery saver mode will give you 90 more minutes when you need it most, and Google has also activated multiple user accounts and guest user modes. From a security standpoint, you can now lock the device with a trusted paired device, like your watch and Android comes with a full kill switch, making the phone useless to thieves. Google has implemented "Factory Reset Protection," which requires a password before it can be reset, by anyone. When paired with remote lock and remote wipe, the phone is a brick when stolen. Additionally, as expected, Android L has full encryption by default, just like Apple's latest.
Overall, Android Lollipop is a huge overhaul for the polished operating system and we can't wait to test out the finished product in the coming weeks.
Take a look at some more photos
here
.