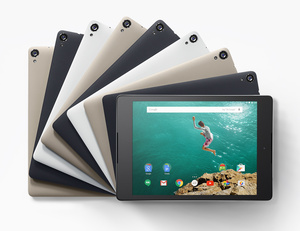 The largest of the trio of devices unveiled today by Google is the new Nexus 9 tablet, built by HTC.
HTC, which has struggled to make a hit Android device in the past years, has been given the reigns on Google's latest tablet, an 8.9-inch device that will fit snugly between the company's 7-inch and 10-inch models from 2013.
Somewhat strangely, the 8.9-in. IPS LCD display will have a 2048-x-1536 resolution (4:3 aspect ratio) which Google says is part of the company's "new focus on productivity." Under the hood is the crazy powerful Tegra K1 64-bit processor, and 2GB RAM. Having tested the K1 on the Nvidia gaming tablet, I can tell you that the processor flies and is very impressive.
HTC has added dual front-facing stereo speakers for improved audio playback, and added their own BoomSound audio software enhancements. The 6700 mAh battery should give you 9.5 hours of active use, lower than the Retina iPad Mini but much improved from the Nexus 7.
Running on the new Android 5.0 Lollipop and all its features, Google has included a "tap to wake" option that was seen in the past on LG's tablets as 'Knock On." You have to tap the screen twice to turn on the display without needing to hit the power button.
Google will make the tablet available
for pre-order on Friday
, with launch on November 3rd. Priced at $399 for a 16GB model, $479 for a 32GB model, or $599 for a 32GB model with LTE, the tablet is priced equally with the rival iPad Mini.