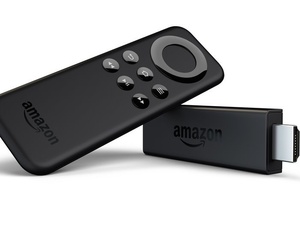 Amazon has announced the newest addition to their streaming lineup of devices: The Fire TV Stick.
The HDMI streaming dongle will directly compete with the popular Chromecast and Roku Stick and it will cost just $39. By comparison, the Chromecast costs $35 and the Roku Stick costs $49.
Most interestingly, Prime subscribers can pre-order the streaming stick for just $19 until Wednesday making it a pretty great value at the price.
Strangely, Amazon is selling its voice-search-enabled controller (just like the one that comes with the Fire TV set-top) separately for $29.99, but if you use the company's remote control app (which is free) you can still get voice search on your mobile devices. The device comes with access to popular Amazon features like Whispersync, X-Ray and a free month of Prime if you aren't already a member.
Different from the Chromecast, the Fire TV Stick acts more like a mini set-top box and will not have "casting" ability to mirror from the page you are on.
See the official launch page
here
.