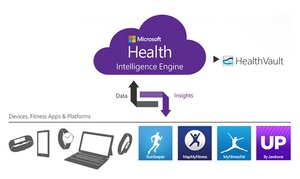 Microsoft has announced its fitness platform today, Microsoft Health, rivaling new offerings from Apple and Google.
Reads the company's press release:
"The Microsoft Health platform includes a cloud service for consumers and the industry to store and combine health and fitness data to create powerful insights. Microsoft Health will be available for consumers from the new Microsoft Health app which launches today on Android, iOS and Windows Phone."
As you can see, Health is cross-platform, which is different from the iOS and Android-locked platforms of Microsoft's rivals, and should therefore, in theory, see a nice sizable amount of potential users.
Adds the release:
Microsoft Health will unite data from different health and fitness devices and services in a single, secure location. Once stored in Microsoft Health, you can combine the data you generate from different devices and services – steps, calories, heart rate and more – to receive powerful insights from our Intelligence Engine. At launch, our Intelligence Engine will share insights such as:



Which exercises burned the most calories during a workout
The recommended recovery time based on the intensity of a workout
The amount of restful vs. restless sleep
Over time, you will have the choice to combine your fitness data with calendar and email information from Office as well as location-based information and more. As you make more data available, the Intelligence Engine will get smarter and provide more powerful insights, such as:

Fitness performance relative to work schedule
Whether eating breakfast helps you run faster
If the number of meetings during the day impacts sleep quality.
Notably, the partners that Microsoft is launching with are UP by Jawbone, MapMyFitness, MyFitnessPal and RunKeeper.
Read more
here
.