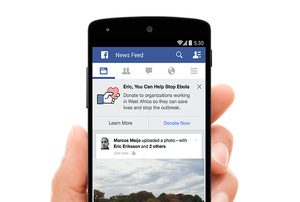 Facebook has announced a few new initiatives this week that will allow its 1 billion+ users to help donate towards fighting the deadly virus.
Reads the post of the three ways Facebook is making it easier:
An easy way to donate
– a Donate feature to raise awareness and funds for International Medical Corps, the International Federation of Red Cross and Red Crescent Societies and Save the Children
Health education
– collaborating with UNICEF to show information on Ebola symptoms and treatment to people in targeted regions on Facebook
Emergency voice and data services
– working with NetHope to provide vital communications capacity to medical and aid workers in Guinea, Liberia and Sierra Leone
There will be a donate feature added to your news feed, allowing you to quickly donate to the three aforementioned company and of course to share that you are donating and how easily others can to.
Ebola has been dominating the headlines for months now, as it became an epidemic in Western Africa with over 4000 people dying. One person has died in the U.S. from exposure after coming back from Africa, and two others have been sick and treated.
See more details here:
Facebook News