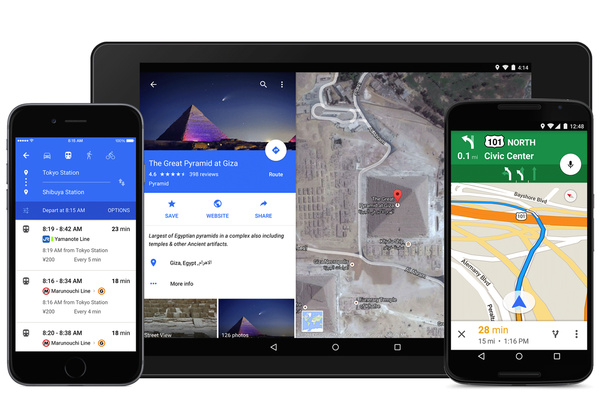 Google has announced that its Google Maps service and apps have been updated with new "material design" to fit the style of Android 5.0 Lollipop, bringing some exciting new features with it, as well. The update extends to iOS, as well.
Says Google:
"Over the next few days, when you open up Google Maps on your Android or iPhone, you'll be greeted by bright colors and a fresh new design. This new look is all about creating surfaces and shadows that echo the real world; with Google Maps' new material feel, layers and buttons come to life so you know just where to touch to get directions, recommendations and imagery."
One of the best new features is the addition of restaurant reservations directly from Maps. You can reserve using OpenTable (U.S.-only for now) right from apps after searching for the restaurant (or any nearby restaurant).
In addition, you can now get pricing and wait time estimates for Uber (if you have Uber installed) right from within Maps.
For the full changelog, see
here
.