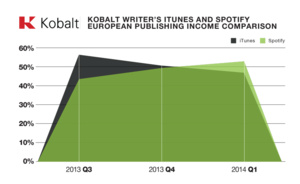 Speaking today at a Web summit in Ireland, music publisher Kobalt shocked by stating that its European artists actually collected more from Spotify than they did from iTunes for the first time ever.
Royalties from the streaming service for the Q1 2014 were actually 13 percent higher than those received from iTunes purchases. In the Q3 2013, that figure was 32 percent higher from iTunes showing how quickly the tides have turned.
"Spotify overtaking iTunes in Europe is an important new milestone in streaming,"
added Willard Ahdritz, founder and chief executive of Kobalt.
While Kobalt's data may be unique (other larger publishers have not confirmed), the publisher does have 6000 songwriters and artists, including half of the UK's top 10 Billboard songs for this week, giving it some say in the industry as a whole.
Source:
VB