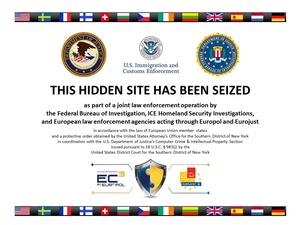 Yesterday, we reported that the Deepnet's 'premier' drug marketplace, Silk Road 2.0, was taken down by a joint FBI, Europol, DHS task force under the umbrella of "Operation Onymous."
Today it has been revealed that the Silk Road was just part of a massive operation in which a total of 17 people were arrested, over 400 hundred .onion domains were seized, and most of the major marketplaces were taken offline. Drug markets Cloud 9 and Hydra were taken offline as were contraband marketplaces Pandora, Blue Sky, Topix, Flugsvamp, Cannabis Road, and Black Market. In addition, money laundering sites Cash Machine, Cash Flow, Golden Nugget and Fast Cash were also taken down.
From the 17 arrested, $1 million in Bitcoins were seized, as well as $250,000 in cash, computers, servers, drugs, precious metals and weapons.
Troels Oerting, head of the European Cybercrime Centerm said that the authorities had not yet even cataloged all the contraband nor listed all 414 .onion domains that were seized.
"One of the primary targets was the Silk Road guy [Blake Benthall],"
added Oerting,
"But we also decided to see if we could identify more of the administrators of these sites and remove their infrastructure as well...Some moved before we could act, but we've taken most of our targets down."
It is unclear how government agents were able to bypass the protections of Tor, but they aren't giving away any secrets either.
"This is something we want to keep for ourselves,"
said Oerting.
"The way we do this, we can't share with the whole world, because we want to do it again and again and again."
Unfortunately for law enforcement, three of the top volume marketplaces in the Deepnet are still active, namely Agora, Evolution and Andromeda, which are expected to take over the listings of those that have fallen.
Source:
Wired