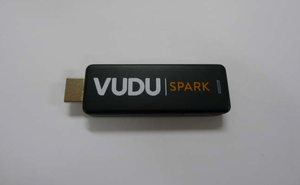 Walmart is preparing its own streaming stick to rival the popular Google Chromecast, named the Vudu Spark.
The specs for the Vudu Spark have just made it to the FCC database, and Walmart (the parent of streaming company Vudu) has confirmed the stick's existence.
Says a Vudu rep:
"At VUDU, we're always looking at new ways for our customers to experience the movies and TV shows in their VUDU library. We're developing a streaming stick and will share more information in the coming months, so stay tuned."
There does not appear to be much to the Spark, except for its ability to stream Vudu. The device will ship with a remote control for easier navigation, and it also appears that the device will use Zigbee RF rather than Wi-Fi Direct, so mirroring abilities may be out of the picture, leaving the device as a single use streaming stick.
Likely, given its limited functionality, Walmart will sell the device for cheaper than the Chromecast, the Roku Streaming Stick and Amazon's new Fire TV Stick although none of them are necessarily "expensive" at $50 and under.
Source:
Om