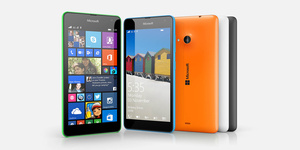 Microsoft, via their Lumia Twitter account, has confirmed that Windows Phone 8 devices will be getting Windows 10 in the future.
When Windows Phone launched, early adopters were screwed when they could not upgrade from the first-gen Windows Phone 7.x to Windows 8.x due to hardware restrictions. Basically, Microsoft told early adopters "thanks for beta testing but now that the OS is good, you have to buy again." Thankfully, that will not be an issue for current buyers.
Interestingly, the company made sure to note that the update will be Windows 10, not Windows Phone 10, seemingly confirming that the next Windows iteration will be a completely cross-platform option.
Here's the tweets:
@Kalars07 We plan to upgrade all Windows Phone 8 devices to Windows 10 in the future :)

-- Lumia (@lumia) November 13, 2014
@_Y06_ There will be Windows 10 upgrades for all Lumia Windows Phone 8 devices :) And we will release new Windows 10 models in the future!

-- Lumia (@lumia) November 11, 2014