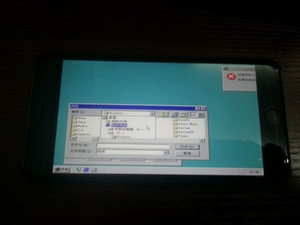 A Chinese programmer has installed Windows 95 onto his iPhone 6 Plus, a move that falls squarely in the very fun but completely useless category.
Using a software tool called 'iDos,' forum user xyq058775 installed the nearly two decade old operating system on his brand new hardware.
The FAQ, translated via Google via
Crunch
:
1.Q: Can I install WINDOWS XP? A: The answer is yes you can, but certainly not by idos, because idos simply simulate the DOS environment is not the true sense of the virtual machine, so the system is more difficult to run the DOS and idos simulation environment and do not have XP running basic environmental needs, so later if transplanted XP system, then I will make use of their leisure time with friends ios platform to write a plug-in to run XP virtual machine system.
2.Q: Why are you doing this? Why not use Remote Desktop. A: First, to show that this kind of thing tall Remote Desktop is currently no support on win98 systems, not to use during system installation and tool methods have sent me here.



3.Q: Why is the process I installed the explorer process wrong? A: Because idos simulator only simulates the 16's dos environment, although win98 16/32 hybrid system but Explorer and exe process large part needed is a 32-bit environment, so when they need 32 program calls some system environment variables and support libraries when an error occurs, LZ modify some of the resource is designed to allow him to run in idos environmental good, However, this modification will change the part of the machine, which has led some device errors when using LZ modify the good image. After LZ according to everyone's feedback slowly improve!
More pics
here
.