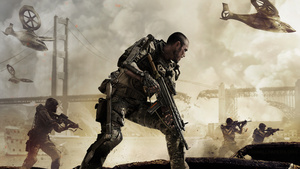 Activision has another hit on their hands.
The latest blockbuster in the 'Call of Duty' franchise, 'Advanced Warfare' sold 7.51 million units worldwide in just its first week of availability, beating out other 2014 stalwarts including Destiny and Titanfall.
Although the numbers are big, they really don't show serious growth compared to last year's launch of "Call of Duty: Ghosts," which sold 7.25 million units in its first week, and 8.23 million if you include the late launches for the (at the time) new PS4 and Xbox One.
The game sold best for PS4, at 3.05 million units, followed by the Xbox One at 2.06 million units. The 360 outsold its late gen counterpart the PS3 1.22 million to 1.09 million, but it still shows demand. The PC version barely moved 100,000 units.
Source:
VGZ