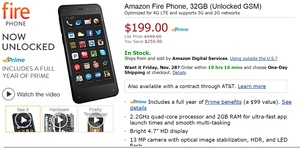 As if there needed to be more proof that Amazon's foray into the smartphone hardware has been a complete disaster, the company has now slashed the price of the device to almost as low as it can go.
Amazon is offering the 32GB model, GSM unlocked for
$199
(originally priced at $599 unlocked), including a free year of Amazon Prime, which is $99 per year.
If you were already a Prime member, the device is effectively down to $100, well within the price range of anyone looking for a smartphone with mid to high-end specs.
If the "fire" sale on the Fire Phone, interests you,
check the page here while supplies last
.
For a more in-depth look at the Fire Phone, see our past articles
here
.