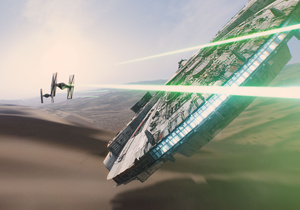 The teaser trailer for the latest Star Wars took the world by storm last week and now we have what appears to be a firm date for the next one.
New reports claim that the next Star Wars trailer, expected to be more than just a teaser, will play ahead of "Avengers: Age of Ultron," which is expected to be the biggest Disney movie of the year (at least until Star Wars comes out).
Age of Ultron is slated for release on May 1st, 2015, and as geeks know, "Star Wars Day" is May 4th, so the timing seems right.
Many expected the next trailer to be on Super Bowl day in early February, given the audience of over 100 million that will be tuned in, and that likely remains a possibility. However, fans will definitely be getting a trailer in May.
See the original teaser here:
Source:
Slashfilm