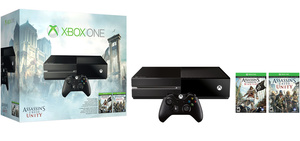 According to a new report, both Sony and Microsoft had great Black Friday weeks, moving consoles at record paces.
Sony sold over 550,000 units for the week ended November 29th in the U.S., stronger than any Black Friday week its predecessor PS3 had.
Microsoft, thanks to bundles and a price cut across the board, sold a whopping 720,000 units in the U.S., easily outselling its rivals.
The Xbox One's sales set a record in the U.S., outselling every console in history for the Black Friday holiday week, according to the site. Keep in mind,
VGChartz
is normally very shaky with their information, and even the sourced article has errors and typos, but the news would not be shocking.
Microsoft dropped the price of their consoles by $50 to $349 MSRP, and that included bundles like Assassin's Creed. Some retailers even dropped the price to $329 to move units. The PS4 also saw some discounts, but nothing along the lines of those seen by the Xbox One.