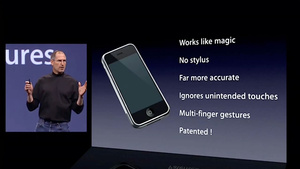 Several media organizations are trying to get Steve Jobs' deposition video from the antitrust trial currently under way released for the public to view.
The two hour video was recorded six months prior to Jobs' death in 2011, and thirty minutes of it was shown in court last week during an antitrust case. The video caught the attention of the media very quickly, as it's one of the last videos recorded of the Apple founder before his death.
"Given the substantial public interest in the rare posthumous appearance of Steve Jobs in this trial, there simply is no interest that justifies restricting the public's access to his video deposition,"
attorney Thomas Burke, representing the Associated Press, Bloomberg and CNN, wrote in a filing.
The video is
not technically sealed evidence
, but it could be sealed retroactively if the judge chose to do so. Apple does not want the Jobs' video released.
The case is almost a decade old. Apple stands accused of harming competition by using its FairPlay digital rights management system to tie iTunes-purchased music to its iPods, which generally sold for a higher price than rival's hardware.
In the video, Jobs reveals that Apple's use of FairPlay and its aggressive protection of it was to fend off attempts to hack the system. Music on iTunes was licensed for sale by record companies and they insisted on the use of the DRM, and if the DRM failed then Apple would be in non-compliance with the contracts it signed, according to Jobs.
Source:
CNET