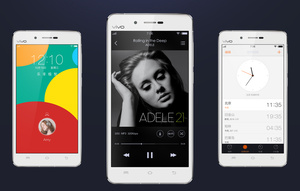 The Chinese love their slim smartphones. The world's thinnest smartphone has been a three horse race between Oppo, Gionee, and Vivo – all of which are from China. Now the latter has introduced the newest king of the hill.
Called Vivo X5Max the slimmest smartphone on the planet is just 4,75 millimeters thin. Regardless of its thinness the phone is packed with almost everything you'd expect from a modern smartphone. It has a 5.5 inch Full HD display, 13 and 5 megapixel cameras, 16 gigs of microSD expandable memory and 2 gigs of RAM.

The phone is powered by the mid range Snapdragon 615 chip that is a quad-core SoC with 64-bit capabilities that can be taken advantage of as soon as the phone gets updated to Android Lollipop.

The battery is "only" 2200 mAh due to the thinness but Vivo has managed to retain the 3.5 mm audio plug unlike its competitor Oppo.

Vivo says that X5Max packs the audio experience you'd expect from its siblings, and even surpasses them. Also the karaoke function gets a mention.



Vivo begins selling the phone in China this Friday for what is just under $500. There is no word on European or US variants.