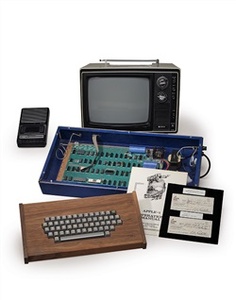 An original Apple-1 Personal Computer sold by Steve Jobs from his home to Charles Ricketts has sold at auction for $365,000 in New York.
The
"Ricketts Apple-1 Personal Computer"
is the only known surviving Apple-1 documented to have been sold by Apple co-founder Steve Jobs from his parent's home to a customer. Of the few hundreds Apple-1s that were made, only 50 are thought to survive and less in working condition.
The Apple-1 was put up for auction by Christie's as part of the auction house's inaugural Exceptional Sale in New York yesterday, held at the Rockefeller Center. It was estimated at between $400,000 and $600,000 so it actually sold for lower than expected.
Steve Jobs sold the Apple-1 to Steve Ricketts (whom it is now named after) from his parents' garage in July 1976.
"The Ricketts Apple-1 is fully operational, having been serviced and started by Apple-1 expert Corey Cohen in October 2014. Mr. Cohen ran the standard original software program, Microsoft BASIC, and also an original Apple-1 Star Trek game in order to test the machine," a
press release
from before the auction reads.