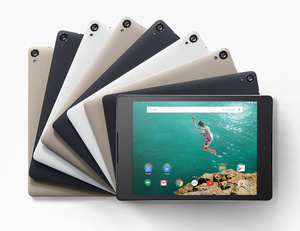 Google has made their new Nexus 9 tablet available with LTE, just over a month after the tablet was released (sans cellular data).
Available at the Google Play Store for $599 with 32GB internal storage, the tablet is
also available directly through T-Mobile
for the same price or for $24.99 per month for two years with $0 down.
The HTC-built Nexus 9 has a 8.9-in. IPS LCD display with a 2048-x-1536 resolution (4:3 aspect ratio) which Google says is part of the company's "new focus on productivity." Under the hood is the crazy powerful Tegra K1 64-bit processor, and 2GB RAM. HTC has added dual front-facing stereo speakers for improved audio playback, and added their own BoomSound audio software enhancements. The 6700 mAh battery should give you 9.5 hours of active use.
Running on the new Android 5.0 Lollipop and all its features, Google has included a "tap to wake" option that was seen in the past on LG's tablets as 'Knock On." You have to tap the screen twice to turn on the display without needing to hit the power button.
The non-LTE 32GB models sell for $479.