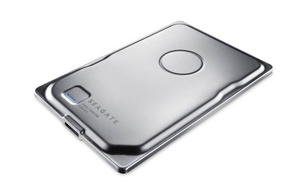 Seagate has introuduced the world's slimmest USB 3.0 external hard disk drive, the Seven.
The device is a ridiculously slim 7mm thick, and the drive is cased in an all-steel chassis that looks very sleek compared to most bland hard drives. There was little more details given except that under the hood is a 5mm Angsana drive and that the capacity is 500GB. Hopefully, the transfer speeds can match the style.
Seagate says the Seven is special to celebrate the 35th anniversary of Seagate's launch of the first mass-produced 5.25-inch HDD.
The drive will be available later this month for $99.99.