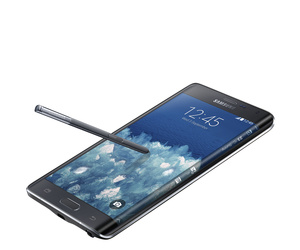 Samsung is preparing another flagship press event at this years Mobile World Congress in March. A lot depends on this one phone and its possible accessories as Samsung's stocks in the smartphone industry have been withering.
According to the information
Business Insider has gathered
from "sources familiar with the company's plans" Samsung will introduce not only one but two flagship variants at the event.
In addition to the two phones BI notes another revision of Gear smartwatch is coming. It will be the first one with a round display for the Korean company.
The sources say that the construction of one of the phones will include metal as is expected after the launch of Galaxy Alpha – the predecessor of metal design flaunting Alpha series – and Galaxy Note 4. It is however not yet known in what fashion the metal is used.
The non-metal variant features an Edge-like curved display. Galaxy Note Edge features a curved display that wraps around the right side of the phone (pictured above).
Business Insider notes that Samsung's plans can still change before the press event in early March.