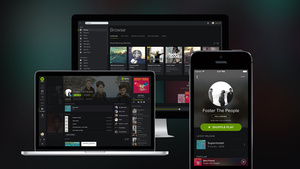 Just two months after unveiling 50 million active users, Spotify now has 60 million active users and a full 15 million paying subscribers.
The streaming music service had 12.5 million paying users in October, paying either $4.99 for unlimited ad-free streaming on their PCs or $9.99 per month for unlimited ad-free streaming everywhere including mobile devices. The company offers all users free music for PCs with ads, and a free but slightly limited version for mobile devices.

Spotify is one of the more valuable private companies in the tech sector, and it is expected to IPO later this year and be worth in the low billions.

The service recently had a setback when popular artist Taylor Swift pulled her entire catalog from Spotify, claiming that streaming services do not value the musician's music. The company has clearly recovered since.