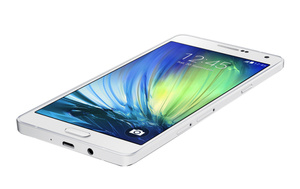 Samsung has unveiled a sleek new all-metal octa-core processor powered smartphone: the Galaxy A7.
The device features a 5.5-inch display, a 64-bit Qualcomm Snapdragon chip (dual 1.8GHz and 1.3GHz quad-core processors or 1.5GHz and 1.0GHz in the dual-SIM model), 2GB RAM, at least 16GB internal storage and Android 4.4 KitKat.

For heavy camera users, the smartphone has a 13MP standard camera and a 5MP front-facing camera. Samsung has added some software tweaks, as well, allowing you to take "wide selfies" and "auto selfies" using "a voice command or even a simple wave of the hand."

In addition, Samsung has added a new private mode that "adds an extra layer of security for important files and documents" and multi-screen support for apps.

The device is also notable for its design, which is metal. Samsung's devices to date have mainly been plastic with faux leather, which can feel cheap when compared to the iPhone and other high-end devices.