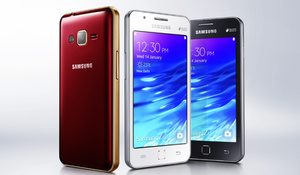 After two years of delays, Samsung has finally unveiled its first real Tizen smartphone, the Z1.
The Z1 is available in India for just 5700 rupee ($90 USD) with a potentially larger release in the future.
With its cheap price, the specs are also as expected: weak. The Z1 has a 4-inch WVGA PLS screen, a 1.2 GHz dual-core processor and 768MB RAM and 4GB internal storage (expandable via microSD). Photo takers will have to struggle with a 3.1MP camera and 0.3MP camera up front.
Z1 owners will get to try out the Tizen 2.3 operating system, and the device is dual-SIM, as is standard everywhere outside of the U.S.
For its Indian-focused device, the device will also come bundled with a 'Joy Box' package that has trial access to Hungama.com, nextGTv and Bot TV. Because all that content needs data, Samsung has also teamed up with Airtel to provide all buyers with 500MB of 3G data for the first six months.
All that content requires bandwidth, and a joint promotion with operator Airtel gives buyers of the Z1 500MB of 3G data for free for an initial six months.
The Z1, and Tizen in general will face a large uphill battle. There are very few apps for the operating system, and all apps written for iOS or Android have to be re-written to work for the new OS.
Source:
Crunch