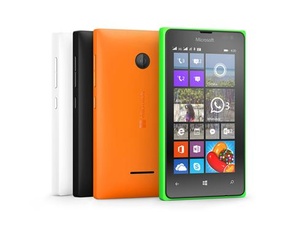 Microsoft has continued their trend of offering cheap Windows Phone smartphones for emerging markets and the EU by unveiling the Lumia 435 and Lumia 532.
The software giant is making a concentrated effort at "bringing devices to as many people and price points as possible," said Jo Harlow, corporate vice president for phones at Microsoft. "With the Lumia 435 and Lumia 532, we've realized our goal of creating the most affordable Lumia devices to date, opening up the opportunity to reach those people who are buying a smartphone for the very first time."

Both devices will sell in Europe, Asia, the Middle East and Africa starting next month at 69 to 79 euros ($81 to $93).

The Lumia 435 has a 4-inch display (800x480), a 1.2GHz Snapdragon 200 processor, 1GB RAM, 8GB internal storage and Windows 8.1 with Lumia Denim. Microsoft Word is included, as is 30GB of free cloud storage. The cameras are 0.3MP up front, and 2MP on the back.

For its slightly higher price, the Lumia 532 offers a low-end quad-core processor and a 5MP camera.