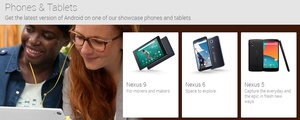 If you were looking to pick up a top device with stock Android rather than the maker's own user interface, it just became harder to do so.
The last of Google's offering of "Google Play Edition" phones is now depleted, with the HTC One M8 GPE now showing up as unavailable.
Over the last few months, Sony's Xperia Z Ultra, the Samsung Galaxy S4, the LG G Pad 8.3 and other GPE phones and tablets have been pulled from the store or sold out and not returned.
If you want stock Android now, you will have to purchase a Nexus device, which are available here:
Google Play Store