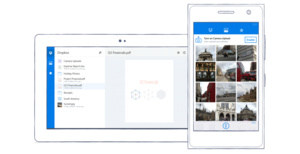 Dropbox has announced today that their app is now available for Windows Phones and tablets.
The company did a
brief list
of the features available for the apps:
-Automatically back up your photos to Dropbox

-Mark files as favorites so you can get to them even when you don't have an Internet connection

-Access both your personal and work accounts at once

-We've also tailored the app for the Windows platform, so you can pin any Dropbox folder to your Start screen for quick and easy access.
Dropbox says the app is available for download on Windows Phones (8.0 or newer) and also on Windows 8.1 and Windows RT devices.