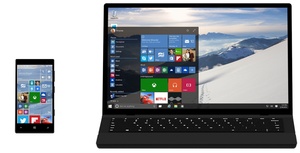 Microsoft is moving away from its traditional view of Windows as its flagship OS product overwhelmingly focused on Desktop, and toward that of a service across devices.
Windows 10 is expected to be released later this year (sometime around the fall) and will be available as a free upgrade for devices running Windows 7 and Windows 8.1, with the goal of getting as many Windows users as possible to the latest Windows experience.
It runs across PCs, smartphones and tablets and utilizes Universal Apps to synchronize content, notifications and more. The Windows Phone era seems to be coming to an end.
Microsoft's demonstrations today showcased how much Microsoft is focused on enhancing the user interface too. We saw a more modern looking Start Menu for example and over all, the visuals on display were quite a step up from where they were just back in September with the launch of the Windows Insider program.
For 2in1 devices (laptop/tablet), we also saw a
"continuum mode"
that changes Windows Apps to full screen display and optimizes for touch-screen when the keyboard is disconnected, while a new Task View really eases multitasking. The Windows automatically revert to their original size when the keyboard is re-attached.
Cortana arrives on Desktop and Tablets
It wasn't a secret that Cortana is coming to the Desktop and to tablets with Windows 10; nevertheless it was made official and demonstrated today. Cortana sits as a search box beside the Start Menu in the Desktop and can be used to organize your day, retrieve information and more, just as it can on Windows Phone devices.
Contana can compose an e-mail for you too with just voice instructions, and also is built to interact with Microsoft's new "Project Spartan" browser experience that we'll take a look at too shortly.
The demonstration of Cortana was notable for how natural the voice sounds, and how prompt it is at retrieving information when queried.
Windows 10 & Universal Apps
Microsoft really wants Windows to be seen more as a service across devices from Windows 10 onward than a set of separate operating systems. It is developing Universal Apps for that reason, and today showcased some Office apps (Word, Excel, Powerpoint) and some other improved Windows apps that sync across all your devices.
For example, the new and improved Universal Photo App can sync photos from multiple sources and upload to OneDrive, making them available on all of your Windows devices. It can utilize an Auto Enhance feature to improve the quality of photos (remove red eye etc.) and can generate albums automatically of all of your photos, even if importing from several different sources.
Other Universal apps include Videos, Music, Maps, People & Messaging, Mail and Calendar.
Project Spartan - Microsoft's new browsing experience
Move over Internet Explorer, Microsoft is working on a new browser experience that is focused on the modern web. Codenamed Project Spartan, the browser comes with an all new rendering engine focused on performance. Today, Microsoft showed off some of its features.
Inking
allows you to use a stylus or your finger to physically
"draw"
or annotate on webpages. Alternatively you can click anywhere and use your keyboard to type out comments. These annotations can be saved and easily shared with others, thanks to OneDrive.
Spartan also follows other browsers by including a reading list which can save content to be viewed across all of your devices. Additionally, a new reading mode can clear away webpage clutter and focus just on the important content, allowing you to read articles as if they were ebook pages.
As mentioned earlier, Cortana is built right into Spartan and can be used to retrieve relevant information to a particle webpage you have open, such as directions to a physical location associated with the page.
Xbox and Windows 10 gaming
The gaming experience that can be expected from Windows 10 is really important to a lot of users, and Microsoft is planning to bring Windows and Xbox close together.
A new Xbox App is coming to Windows 10 to integrate Live directly into the operating system. Xbox Live is social, interactive, and seamlessly integrated directly into Windows 10, bringing gamers the experiences they love across devices, like multiplayer gaming on Windows 10 against players on an Xbox One, and messaging and chat with friends.
It will also be possible to stream Xbox One games from a console to a Windows 10 PC on the same network, with an Xbox One controller connected to the PC, which will be very useful of the TV is not available in the living room.
Game DVR
also is coming to Windows 10, allowing you to record your PC gameplay and upload/share it with others.
As you'd expect, Windows 10 and DirectX 12 also go hand in hand.
The integration won't go just one way either, as Phil Spencer revealed that Windows 10 is also coming to Xbox One.
"Later this year we'll update to Windows 10 to enable seamless interaction with PC gamers and to give developers who want to extend their applications to the television an easy path to do so,"
he revealed.
Check out Windows 10
Builds of Windows 10 are available to install through the Windows Insider program. Since September, over 1.7 million have joined the program and are actively aiding Microsoft build its next generation.
Note however that not all displayed features today will be available soon on the preview versions of Windows 10.
See:
insider.windows.com