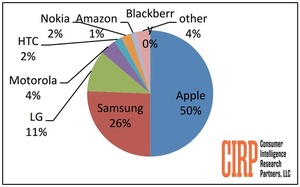 According to a new survey from Consumer Intelligence Research Partners, 50 percent of all phone activations in the U.S. were for Apple devices like the new iPhone 6 and 6 Plus.
Samsung remained relatively dominant, as well, at 26 percent of activations and LG came in third with 11 percent. Everybody else had minor shares, including HTC, Motorola and Nokia. Even Amazon and Blackberry made guest appearances combining for 1 percent of activations.
The survey also noted that 25 percent of previous Samsung owners switched to iPhones, while 18 percent of previous LG owners doing the same.
Keep in mind that the survey was only 500 subjects, which could mean the figures have significant margins of error.
Source:
GSMA