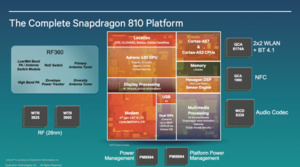 Over the past week, Qualcomm has been dogged by reports that claim that its new high-end Snapdragon 810 chip generates too much heat and smartphone makers are staying away.
One major report from the week claimed that Samsung is being forced to use their own Exynos chip for the upcoming Galaxy S6 flagship because the 810 overheated the phone too much. Qualcomm is working on an updated version, but it is unclear if it will be ready in time for the launch of the new device.
LG, on the other hand, is said to have worked around the heating issues by updating the cooling system for their upcoming high-end devices, including the G Flex 2.
"Heat levels don't depend entirely on the CPU (mobile processor) but also on how the phone's internal cooling system is designed,"
said Choi Yong-su, a vice president for LG's smartphone development.
Qualcomm is the biggest chipmaker in the world, and the Snapdragon 810 is a big part of its 2015 sales plans. Some analysts estimate profits could be reduced by up to 8 percent if the Snapdragon 810 is a dud.
Source:
WSJ