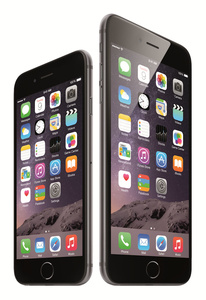 Apple sold a record amount of iPhones over the holiday quarter, easily beating out analyst expectations and crushing their previous sales records.
The company sold 74.5 million of the devices, up 45 percent year-over-year, and up large from the previous quarter. Perhaps even more importantly for Apple, the iPhone average selling price increased to $687, from under $670 previously. This means consumers were buying more expensive devices, like the iPhone 6 Plus.

Apple set their record quarter thanks to finally offering an iPhone with a reasonably large screen. The iPhone 6 has a 4.7-inch display and the iPhone 6 Plus has a 5.5-inch display, both far and away the largest offered by the company. Millions of Apple fans waited patiently with their iPhone 4S or iPhone 5 to upgrade, and that time was now.

After such a huge quarter, isn't it prudent to think that Apple will sell less devices in the future? Apple CEO Tim Cook doesn't think so. The executive says that only 12 percent of Apple's current installed base has upgraded to a new iPhone and that the iPhone 6 had the largest amount of "Android Switchers" since the iPhone 4S, which shows that Google's OS' dominance may be slightly waning. Finally, Cook says the iPhone 6 had millions of sales from consumers buying their first iPhone, or even their first smartphone. For awhile, especially abroad, there will be plenty more of those.