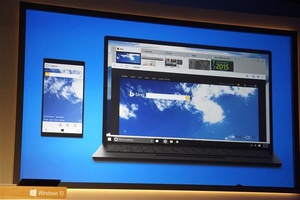 Last week, Microsoft announced its Internet Explorer successor, codenamed Project Spartan, a browser experience focused on the "modern web."
Spartan will include a new rendering engine for better performance, will allow you to use your finger (for touch displays) to annotate webpages (or a keyboard and mouse), will include a reading list to save content and sync to other devices, has a reading mode that clears away ads and other noise for easier reading, and will also have the voice activated personal assistant Cortana tech built right in.
In addition, it appears that Spartan will finally bring extension support. Spartan will launch with Windows 10 across PCs, tablets and smartphones.
Microsoft also appears to be testing ways for Chrome extension developers to port their popular extensions over to Spartan.
#AskIE @bdsams @jacobrossi @IE Yes. We're working on a plan for extensions for a future update to Project Spartan.

-- IE Dev Chat (@IEDevChat) January 27, 2015