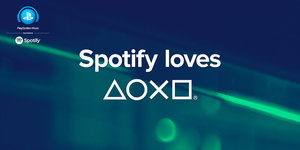 Earlier this week, Sony announced the end of their own Sony Music Unlimited service and the introduction of PlayStation Music, powered by Spotify.
PlayStation Music + Spotify will be available in 41 markets "by Spring," says Sony.
Reads the
post
:
We know how important music is to our community of gamers, and this partnership combines the best in music with the best in gaming. PlayStation Network users will enjoy the convenience of linking your accounts to Spotify, making it easy to sign-up with your existing ID and subscribe to Spotify's Premium service. You can also use Spotify while playing games on PS4, enabling you to soundtrack your gaming sessions with your favorite songs in the background. Want something heavy and rocking for an intense Destiny Raid? How about some old school hip hop while taking the field in Madden NFL? With more than 30 million songs and 1.5 billion playlists, Spotify on PlayStation Music has it covered. As we get closer to launch we look forward to telling you about some of the other great features that will be available exclusively through Spotify on PlayStation Music.
The service will launch for PS3, PS4 and Xperia devices, at least initially. Because Spotify is involved you can curate playlists and save them to use with other Spotify supported devices, like your phone or PC.
Music Unlimited will shut down for good on March 29th, and the final month will be free for subscribers.