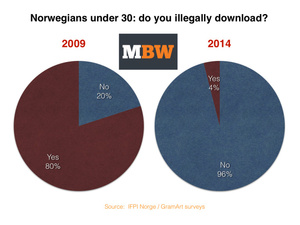 According to the latest IFPI report out of Norway, music piracy has been eliminated in the nation in just 5 short years.
In the countrywide survey, only 4 percent of Norwegians under the age of 30 said they use illegal file-sharing platforms to get their music, down from 80 percent in 2009. Only 1 percent of Norwegians admitted that unauthorized file sharing was their main or only source of acquiring music.
So what changed? Legal options. 75 percent of Norway's music industry income comes from streaming, including Spotify and Tidal, and 80 percent of those surveyed claim streaming is their main source of music now.
IFPI Norge MD Marte Thorsby noted:
"We are now offering services that are both better and more user-friendly than illegal platforms... In [the past] five years, we have virtually eliminated illegal file sharing in the music industry."
"We have managed to reintroduce a healthy economy in music industry. We must simultaneously not forget that we are only in streaming's infancy, and that we will probably see major changes in the coming years. Younger audiences are using streaming services to the greatest extent. When older audiences [start] embracing these services we will probably see a somewhat different distribution of revenues. Hopefully this will also involve a better economy for several Norwegian artists and record companies."
While Norway is a small country (population 5 million), the news is great for an industry that tried for a decade to kill music piracy via means that did nothing but to alienate a young population of music fans. Cheap, legal services like Spotify have been a real "game-changer" in the fight against piracy but not so much in the industry's quest to grow profits.
Source:
MBW