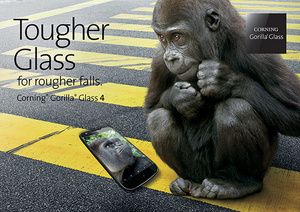 Corning has announced this weekend a new type of protective display glass that can potentially rival the more expensive scratch-resistant sapphire crystal.
'Project Phire' will combine the strengths of Gorilla Glass (used currently in most high-end smartphones) with scratch-resistance on par with sapphire crystal.

James Clappin, Corning's president of Glass tech, says the company will sell the material later in the year. "We told you last year that sapphire was great for scratch performance but didn't fare well when dropped. So, we created a product that offers the same superior damage resistance and drop performance of Gorilla Glass 4 with scratch resistance that approaches sapphire."

Gorilla Glass is used in over 3 billion devices, including the latest iPhones, but there had been worries within Corning that Apple would move to sapphire through its partnership with GT Advanced. GT Advanced filed for bankruptcy late last year and had a public falling out with Apple, killing that notion, at least for the latest iPhones.

While Gorilla Glass is hard to break, it scratches easier than sapphire and vice versa. Project Phire shows just how important scratch resistance is going to become in the industry moving forward.