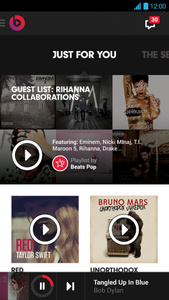 Thanks to
9to5Mac
, we have some details about how Apple finally plans to use Beats Music, which they acquired last year.
According to the report, Apple plans to release their new service later the year, integrating the existing Beats foundation into iOS, Apple TV and iTunes. Apple will update their existing Music app for iOS devices, and is currently doing so.

Cloud streaming will be very important to the service, and there will be a search feature that allows users to search the iTunes/Beats catalog and their own store music. You will be able to create playlists, save songs to your personal library and even dictate where specific tracks get saved (iOS, PC, cloud-only).

Beats Music featured human-curated playlists from DJs, music producers and others, and it seems that Apple will keep those, and add new ones. Existing Beats subscribers can easily merge their accounts with their Apple ID or iTunes profiles and merge all existing libraries to the new service.

Apple is also said to be creating their first Android app developed in-house.

Notably, Apple is looking to charge just $7.99 per month, two dollars less than nearly all streaming services including Google, Spotify, Rdio and even Beats Music.