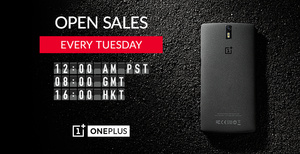 OnePlus has announced that its flagship One smartphone will finally have set sales dates following a year of invite-only and flash sales.
Every Tuesday, for a full 24 hours, the device will go on sale in 16GB Silk White and 64GB Sandstone Black. If you want different storage or color options, you will still have to go through the invite system, although there seem to be plenty of invites going around today.
Says the company:
"Over the past few months, we've been exploring new ways of making the OnePlus One easier to purchase. The overall amount of available invites has increased significantly, but we've also held pre-order and open sales events, allowing for purchases without the need for an invite. During these events, we have been collecting data and fine-tuning our production schedules.
Today, we're glad to announce that we're making it even easier to buy the One.

Every Tuesday, we will open up sales for 24 hours, starting at 8 am London time (midnight in Los Angeles; 4 pm in Hong Kong). The OnePlus One will be available without an invite in both 16GB Silk White and 64GB Sandstone Black."
Check out the device and more info
here
.