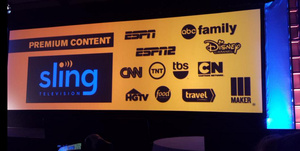 Dish's new online TV streaming service is no longer invite-only, meaning any would-be consumer can sign up today.
Sling TV gives live access to over 10 channels that can be watched online, at a price cheaper than any standard cable or satellite package.

The new service will cost $20 per month and includes the following channels: TNT, TBS, CNN, Food Network, HGTV, Cartoon Network, Adult Swim, the Disney Channel, Galavision, El Rey Network, a Maker Studios channel and ESPN, ESPN2 and ESPN 3. AMC will be added soon. For $5 extra, there are add-on packages for additional sports channels, or additional news channels, or a family package aimed at kids.

While in theory, the practically ala carte service is great for cord cutters, especially given the access to ESPN and big-time sports programming, but under the hood there are quite a few caveats, as well. Only one person can watch Sling TV at any given time. You will need a streaming device and the Sling TV app to get the TV on your big screen. Roku will support it out of the box, Apple TV will not. Local broadcasting is missing such as NBC, CBS, FOX, and ABC. DVR features like fast forward and rewind are available on a channel-to-channel basis.



There is one positive, however, as Sling TV does not have annual contracts and can be cancelled at any time.