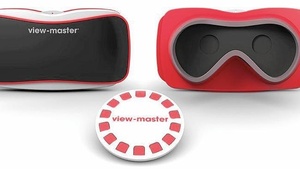 As expected, Google and toymaker Mattel have updated the View-Master for 2015, integrating Android and adding a 360-degree view of animated environments.
The original View-Master was released in 1939, and let kids slide cardboard disks with stereoscopic images into the red plastic device to view via the viewfinder.

For the 2015 model, the View-Master will work with a customized Mattel app, and other apps that are also compatible with Google's 'Cardboard' VR headset. Mattel will sell reels/disks that launch the "user into an augmented reality environment based on the subject of the reel (examples include San Francisco, Dinosaur Adventure, Solar System)."

Mattel is also expected to resell many of the 10,000 disks available for the original system. The new View-Master will go on sale later this year for $29.99. Three-pack reels will cost $14.99.