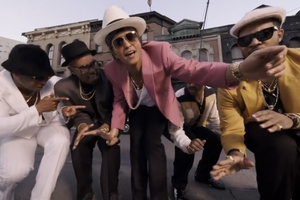 Despite what Taylor Swift would have you believe, there is money to be made on streaming services like Spotify.
Mark Ronson and Bruno Mars' hit song 'Uptown Funk' is a certified hit and one of the most popular tracks in the world. According to MBW, the song is making nearly $100,000 per week on Spotify alone thanks to millions of plays.
Since its release on the streaming service on November 10th, 2014, the track has been played 125.9 million times. Spotify estimates $0.007 is paid to rightsholders per play, meaning the song has brought in nearly $900,000 in revenue.
At around 15 million plays per week, the song is bringing in $100k per week, a number shared by Ronson, the record label, the publisher and any co-writers.
As reported previously
on Afterdawn
, how much the artists get is a subject of debate. If you do not include taxes or platform costs, the labels take 73 percent, songwriters take 16 percent and artists get 11 percent, but it is hard to imagine an artist struggling while getting $11,000 a week from just one platform.
Source:
MBW