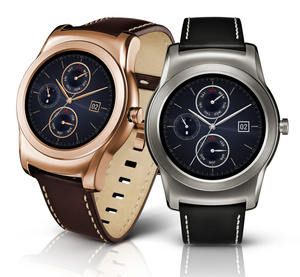 Ahead of the upcoming Mobile World Congress, LG has unveiled their latest smartwatch, the Watch Urbane with a sleek metal face and looks that rival those of non-smart watches.
Similar to its predecessor, the G Watch R, the new Urbane has a a 1.3-inch 320x320 P-OLED display at 245 pixels per inch, a 1.2 GHz Snapdragon 400 processor, 4GB internal storage, 512MB RAM and a 410mAh battery.
Feature wise, there is a heart rate monitor, a barometer and it's IP67 dust/water resistant but don't take the watch when you go swimming.
The body is now either silver or gold finish, and the bands are stitched leather, giving a high-end look.

"LG Watch Urbane is an important part of our strategy to develop wearable devices that are worn and viewed as everyday accessories, not electronic gadgets,"
Juno Cho, LG CEO and President, said in the press release.
It is unclear when the watch will be released, nor has the company provided a price range but given the specs expect the watch to come in at $299.