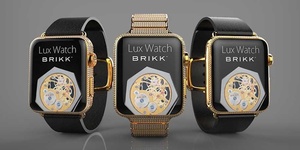 Even though the Apple Watch is at least two weeks away from launch, luxury design company Brikk has already announced a line of Apple Watches that cost as much as $75,000.
We are a couple of weeks away from learning the pricing and availability of the different models of the Apple Watch, but many have speculated that the high end 'Edition' model will cost $10,000.
Brikk has placed 30 different models of the smartwatch up for pre-order, starting at $7500, and each watch is a teardown of the original which is then "rebuilt with luxury materials" including diamonds.
Besides the diamonds, you can choose from 24-karat yellow gold, 18-karat pink gold, and 950 platinum and you can also choose between the standard 38mm face or a larger 42mm for extra money.
At the very base price, you get the Lux Watch Standard with a leather strap and a single row of 0.5 carat diamonds. The $75,000 model gets you a titanium band and 11.3 carat diamonds on the face and strap. The top model requires a non-refundable $10,000 deposit. It even comes with an "aluminum zero" case with carbon fiber and suede interior.
Source:
Brikk