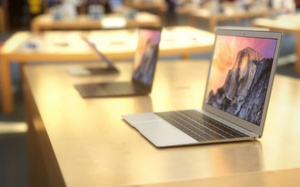 As part of a broader report on Apple today, the WSJ has suggested that Apple's rumored 12-inch MacBook Air could be launched as early as Monday.
Apple has scheduled a press event for Monday in which they are widely expected to reveal a firm launch date for the Apple Watch including pricing. However, Apple could have more than one announcement scheduled.
Says the report:
"While suppliers are gearing up to ship the new 12-inch MacBook Air in large quantities in the second quarter, Apple's launch schedule remains unclear, the people said."
The new Air will be thinner and lighter, and the 12-inch display will take the same space as the current 11-inch Airs, suggesting smaller bezels. The new laptop will also have minimal ports, with some reports suggesting there will be a single USB C port.
Source and pic:
9to5mac