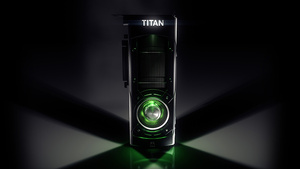 Nvidia has unveiled the new Titan X GPU - the most powerful video card ever created.
CEO Jen-Hsun Huang says the GPU has 8 billion transistors, uses the new Nvidia Maxwell architecture and has a ridiculous 12 gigabytes of VRAM.
More will be revealed on the spec side in the coming weeks, but Nvidia demoed the power of the Titan X by showing off 'Thief in the Shadows,' a VR experience that lets gamers "wade through acres of coins, pass between stacks of gold ingots and explore subterranean crevices all guarded by an enormous dragon that has no intention of giving up any of his hoard" (Smaug from The Hobbit). The game plays at 90fps.
Read more about the GPU and demo that literally dropped jaws today:
Nvidia